Author from Pennsylvania Public Utility Commission
Tue, 2018-11-06 10:29 —
meacott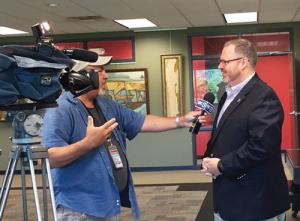 Excerpt from "#Utility Careers in the Pennsylvania Spotlight" by Nils Hagen-Fredericksen of the Pennsylvania PUC:

"Unfortunately, utilities often operate in the background. They work so well and are so reliable that they 'hide in plain sight,' only noticed when something goes wrong. And, in those rare situations where the lights do go out, a water line ruptures, or there is some other problem, the work that most members of the public see involves field crews repairing power lines and digging up streets. What they don't see is the massive amount of time, effort, ingenuity and problem-solving that goes into keeping our essential systems running 24/7 — and they certainly don't see the thought and time being invested in developing the systems of tomorrow.

In many regards, utilities are victims of their own success. Our systems have operated so reliably for so long that the average citizen takes service for granted. And that certainly applies to the average middle-school or high-school student, even though the technology they are so connected to would not function without our utilities — and the same applies to the 'tech giants' they are so drawn to. Pulling back the curtain to help this rising generation understand the opportunities available, the skills needed and the potential rewards — economic and social — is the current focus for Pennsylvania."

Read the complete article here.

 
Do you work at a utility? This year, we're significantly raising the rate for individual subscriptions to Public Utilities Fortnightly and phasing them out for anyone at an organization with over a hundred employees — utilities and non-utilities alike. We'll make it easy and economical for your company to sign up for an organization-wide membership that'll cover any and all employees.

Steve Mitnick, Editor-in-Chief, Public Utilities Fortnightly, and President, Lines Up, Inc.
E-mail me: mitnick@fortnightly.com