On the Front Line in Ukraine
Mon, 2023-03-06 13:36 —
meacott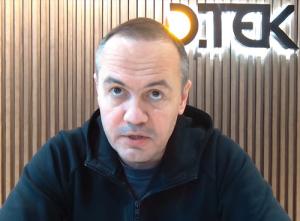 Ukraine's energy security was the topic of the first 2023 online talk by DTEK CEO Maxim Timchenko, on January 25. And Public Utilities Fortnightly's Editor-in-Chief Lori Burkhart covered it.
DTEK is the largest private investor in Ukraine's energy sector. As of this discussion, one hundred thirty-three of DTEK's employees have died, twenty-four are missing, four are in captivity, and three hundred twenty-two have been wounded. Despite that heavy toll, Timchenko is determined to keep the lights on, and looks ahead to rebuilding Ukraine's energy future.
Here are excerpts of what Timchenko said. Before and after the air raid warning! See the full article.
"I will start with good news because we've passed through half of the heating season. Ukraine is alive. Ukraine is not in darkness, and we have enough to survive, with the heat and power supply. Of course, it's not easy.
We are here on the energy front, which has the same importance as the military front. All of the people working in our company, and all other companies, are fighters. They are fighters for the victory of Ukraine, and fighters for the future, not only Ukraine but the whole European Continent.
I will speak briefly about our power capacity. Today, we have seventeen gigawatts of capacity, in the controlled territory of Ukraine. Of that, about forty-five percent is damaged, either as a result of shelling, or as a result of the situation, where we cannot bring coal or gas.
Thermal power generation, today we have 2.4 gigawatts of capacity available, which is fifteen power units, and seven gigawatts is not available, which consists of thirty-two power stations not available, because Russians changed their tactics.
If you remember, they started targeted physical destruction of our energy infrastructure in October. But the primary targets were the power grid, the substations, and all other equipment related to the connection of power stations to where this power is consumed.
From this year, especially, the recent attack on January 14 was specifically targeted to destroy power generation. The primary target was thermal power generation, and we are the major player in thermal power generation in Ukraine.
It was massive destruction of two of our power stations. To remind you, we upgraded six power stations on controlled territory, providing about eighty percent of the capacity in thermal power generation, and about twenty-five percent of the capacity in total electricity production in Ukraine.
As I said, two of our power stations were damaged, unfortunately, one we haven't been able to reconnect since January 14. For the other one, we lost about forty percent of capacity. For the power station, which is close to the front line, we were struggling to reconnect it back to the grid until yesterday.
In general, we lost about fifty to sixty percent of capacity that we could supply to the grid. As a result of this situation today, at peak hours, we have a deficit of as much as 4.5 gigawatts, which is about forty percent of consumption in Ukraine. That's a huge number, and it's quite difficult to cope for everybody, including our company.
We are still trying to find a solution. First, we do everything possible to quickly fix the problems of this power station, as a result of this attack. Yesterday, we brought one power unit from one power station, in [another] region. Then we hope, that over the next week, we'll bring back this power station that was attacked on January 14, so that at least fifty percent of capacity will be back to the grid.
Then we have the other power station which was attacked five times already. For this power station, located close to the western border of Ukraine, we hope to bring another two power units. We are doing everything possible to lower this deficit for five gigawatts of capacity…
What is important, is to keep working with the European Commission, so we can bring this [cross-border] capacity from six hundred to two thousand megawatts. We have good prospects in line with our Polish partners, who can bring four hundred kilovolts online; and can bring another, up to one thousand megawatts of additional cross-border capacity.